2013-[…], Collage, Digital C-Print, Diptych, Dimensions variable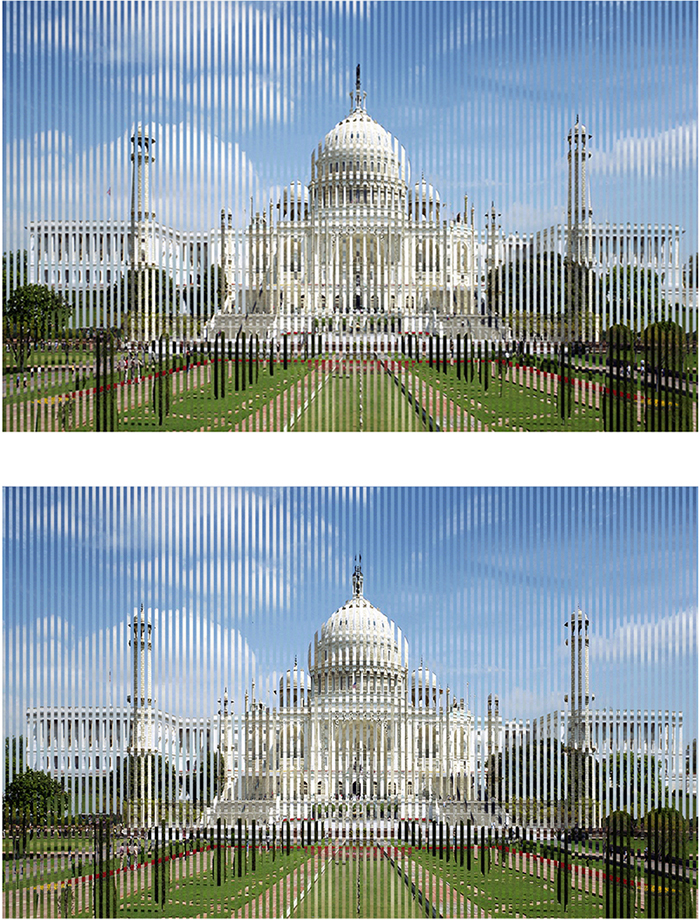 FENCE #1 (Taj Mahal & Capitol), 2013, digital c-print, dimensions variable, diptych
The series FENCE is composed of the numerously material of iconographic photographys of different buildings that were found in the internet which are in a socio-cultural contrast to each other. Therefore the pictures were cut into a number of narrow horizontal stripes. From the totality of the stripes of the original images two collages are formed in which each picture is 50% embodied. The collages are presented as c-prints next to each other as a diptych.
2013-[…], Collage, Digitale C-Prints, Diptychon, Variable Größen
Die Serie FENCE setzt sich aus im Internet gefundenen, ikonographischen Fotografien von
verschiedenen Bauwerken, die in einem sozio-kulturellen Kontrast zueinander stehen, zusammen. Dafür wurde das jeweilige Einzelbild in eine Vielzahl schmaler Streifen zerlegt. Es entstehen aus der Gesamtheit der Streifen der jeweiligen Originalbilder schließlich zwei Collagen, die jeweils genau 50 % des Originalbildes enthalten. Diese werden C-Prints abgezogen und übereinander als Diptychon präsentiert.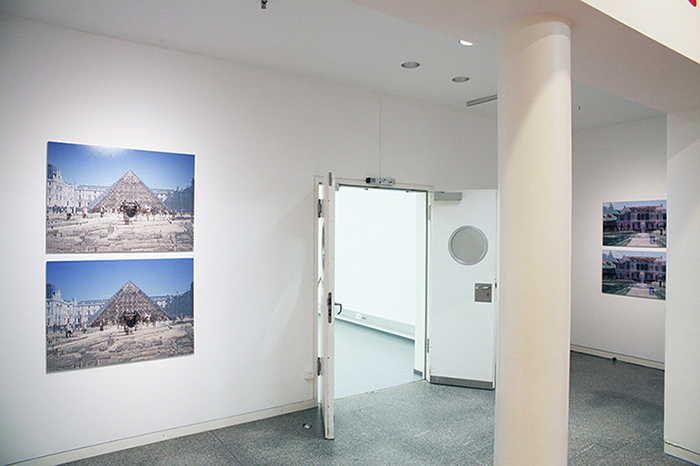 installation view, 2013, Echoraum IX, Auflauf der Fassaden, Bundeskunsthalle Bonn, Germany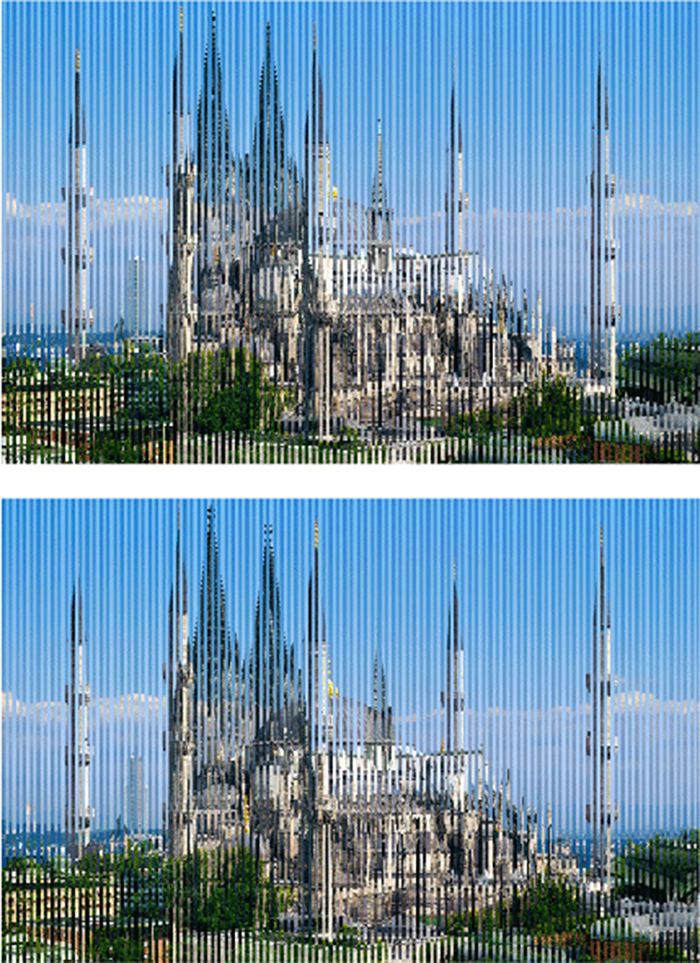 FENCE #12 (Sultan Ahmed Mosque & Cologne Cathedral), 2013
digital c-print, dimensions variable, diptych
FENCE #25 (Louvre Museum & Pyramid of Cheops), 2013
digital c-print, dimensions variable, diptych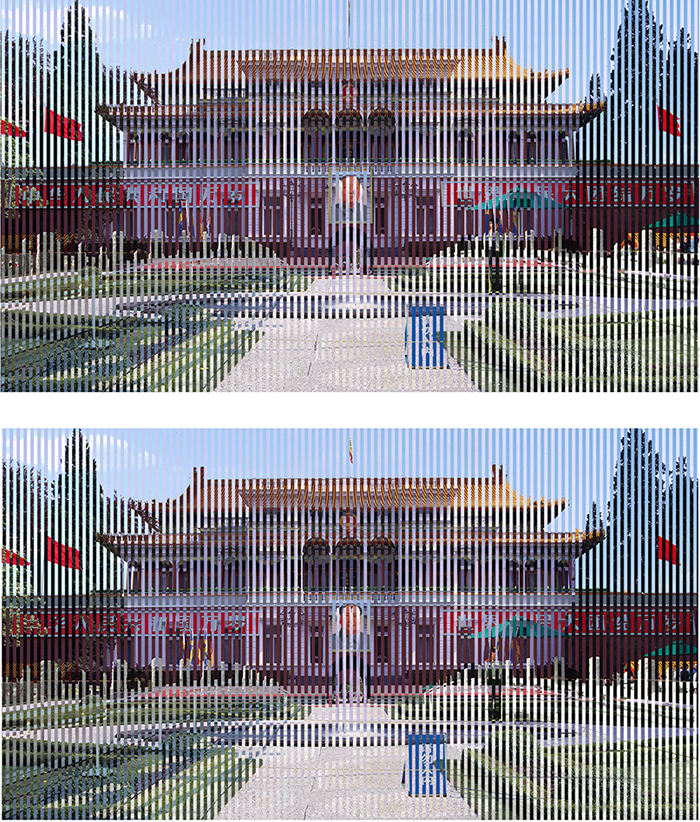 FENCE #56 (Forbidden City & Hammerschmidt Villa), 2013
digital c-print, dimensions variable, diptych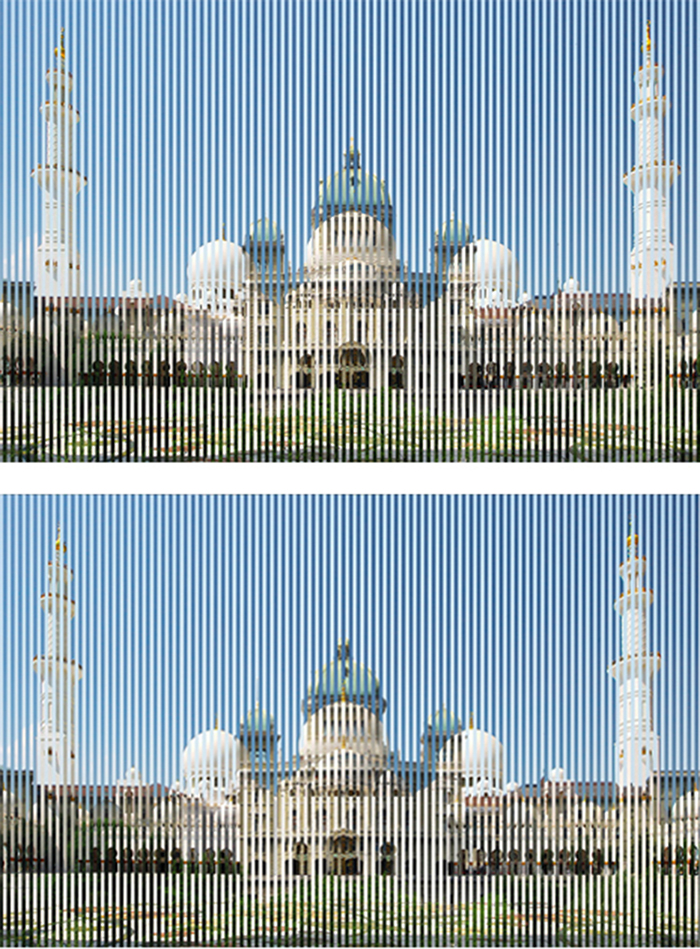 FENCE #57 (Sheikh Zayed Mosque & Federal Palace of Switzerland), 2013, digital c-print, dimensions variable, diptych
© Stefan Mildenberger