2016, video loop, 15:55
The video loop THOUGHTS ON MOVING IMAGES from Stefan Mildenberger is shot in his installation SMART SCAN LAB – a laboratory to analyze moving images. For the experimental setup a TV is tilted on its back and a glass is put on the screen. The smartphone is also under glass. The performer is scanning the screens of the TV and the smartphone with a mobile scanner while broadcasting videos or TV-programs. The resulting scans are shown for further analysis on a big screen that is installed on the wall of the laboratory. You only can see the hands of the performer, so the gender is not clear relatable. During the video you hear a voice, which tells thoughts and theories on moving images and gender representation in media, that are simultaneously shown as text.
concept / edit / sound: Stefan Mildenberger
camera / light: Lisa Dutschmann
developer: Ulf Freyhoff
2016, Video-Loop, 15:55
Das Video-Loop GEDANKEN ZU BEWEGTEN BILDERN von Stefan Mildenberger, wurde in seiner
Installation SMART SCAN LAB gefilmt – ein Labor um bewegte Bilder zu untersuchen. Für den
Versuchsaufbau wurde ein Fernseher auf den Rücken gekippt und eine Glasscheibe auf die Bildfläche gelegt. Das Smartphone liegt ebenfalls unter Glas. Der Performer scannt mit einem mobilen Scanner die Bildflächen des Fernsehers und des Smartphones ab, während diese Videos oder Fernseh-Programme ausstrahlen. Die entstandenen Scans werden zur weiteren Ausschauung auf einem großen Bildschirm, welcher im Labor installiert ist, gezeigt. Man kann nur die Hände des Performers sehen, somit kann man kein klares Gender erkennen. Während dem Video-Loop hört man eine Stimme, die Gedanken und Theorien zu bewegten Bildern und Gender Repräsentation in Medien erzählt, welche gleichzeitig als Text angezeigt werden.
Konzept / Schnitt / Sound: Stefan Mildenberger
Kamera / Licht: Lisa Dutschmann
Entwickler: Ulf Freyhoff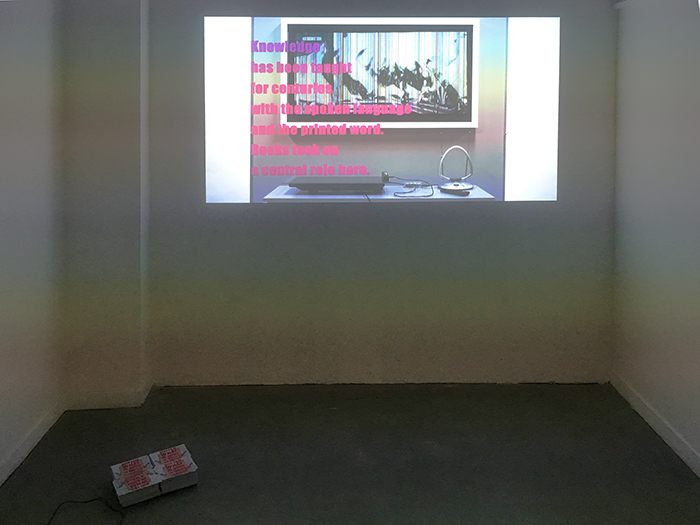 SMART SCAN LAB: THOUGHTS ON MOVING IMAGES
2016, installation view, Kunsthaus Hamburg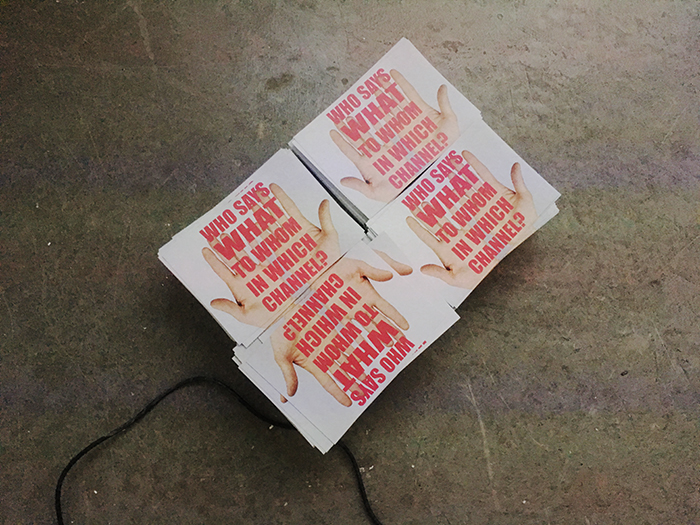 SMART SCAN LAB: THOUGHTS ON MOVING IMAGES
2016, Postcards, installation view, Kunsthaus Hamburg
© Stefan Mildenberger