Texts
Podcast
Art-Audio-Walk at

Ortstermin 22
Kunstfestival in Moabit und im Hansaviertel
26. – 28.8.2022
Kunstverein Tiergarten e.V.
Turmstraße 75
10551 Berlin
AIN'T NO BEDROOM BIG ENOUGH
– ICH GEHE MIT EUCH DURCHS FEUER IN DEN BAUMARKT
/ FIRE WALK WITH ME TO THE HARDWARE STORE
(Deutsch oder Englisch)
by Charlotte Arnhold, Stefan Mildenberger und ANna Tautfest
Bitte Smartphone mit Kopfhörern mitbringen /
Please bring a smartphone with headphones
Download English Version
STORY A:  Lullaby of a robot bunny (Charlotte Arnhold)
Read by Miranda Stuart, Start 5:45
STORY B:  Floor 182 (Charlotte Arnhold)
Read by Claude Mayfield, Start 13:50
STORY C:  The architectonic revolution (Stefan Mildenberger)
Read by Libby Dougall, Start 25:14
STORY D:  The mirror boat (Charlotte Arnhold)
Read by Razvan Kim, Start 36:57
STORY E: My everything (Stefan Mildenberger)
Read by Merik Tiz, Start 48:21
Footnotes: ANna Tautfest, Read by Markus Hüppauf
Songs: "A bed" Stefan Mildenberger, 2021
"Ain`t no bedroom big enough", Charlotte Arnhold, 2021
Download Now
Download Deutsche Version
STORY A:  Das Roboter-Bunny (Charlotte Arnhold)
Gelesen von Martin Lindemann, Start 6:15
STORY B:  Stockwerk 182 (Charlotte Arnhold)
Gelesen von Björn Gailus, Start 15:23
STORY C:  Die architektonische Revolution (Stefan Mildenberger)
Gelesen von Jo Wölfing, Start 28:06
STORY D:  Das Spiegelboot (Charlotte Arnhold)
Gelesen von Melanie Bohn, Start 40:25
STORY E:  Die Erfüllung (Stefan Mildenberger)
Gelesen von Stefan Mildenberger, Start 53:06
Fußnoten: ANna Tautfest
Songs: "A bed" Stefan Mildenberger, 2021
"Ain`t no bedroom big enough", Charlotte Arnhold, 2021
Download Now
Wirkt sich unser Umfeld, die Architektur und Möbel, die uns tagtäglich umgeben, auf unsere Liebesbeziehungen aus? Was mache ich, wenn ich mehr als eine Person liebe, aber im Baumarkt nur Doppelbetten für maximal zwei Menschen im Angebot sind? Wenn es in meinen Gefühlen Platz für viele gibt, aber in meiner Wohnung nicht? Der Audio-Walk Ain't no bedroom big enough – Ich gehe mit euch durchs Feuer in den Baumarkt führt uns von Haus zu Haus. Wir machen Halt an ausgesuchten Orten und erfahren fiktive Erzählungen über deren Anwohner*Innen. Über ihre Beziehungen. Wen Sie begehren und wie sie lieben. Wie die Räume, in denen sie leben und ihre Möbelstücke ihre Liebesbeziehungen beeinflussen. Beim Hören tauchen wir ein in eine Welt voller Überraschungen und werden inspiriert, unsere Beziehungskonstrukte neu zu überdenken.
Does housing, environment and architecture affect our romantic relationships? What if I love more than one person, but there's only king size beds for couples for sale? When in my heart there's room for more, but in my flat there isn't? The audio walk Ain't no bedroom big enough – fire walk with me to the hardware store takes us from door to door. We stop at selected places and buildings and listen to fictional stories about the residents. Tales of their relationships, who and how they love and desire. How their living spaces influence their relationships, to others and to themselves. We are immersed in a world full of surprises and inspired to revisit our ideas of togetherness.
Stories: Charlotte Arnhold, Stefan Mildenberger
Footnotes: ANna Tautfest
Composition/Music: Charlotte Arnhold, Stefan Mildenberger
Stimmen / Voices:
Melanie Bohn
Libby Dougall
Björn Gailus
Markus Hüppauf
Razvan Kim
Martin Lindemann
Claude Mayfield
Michael McGlinn
Stefan Mildenberger
Simon Schultz
Miranda Stuart
ANna Tautfest
Merik Tiz
Jo Wölfing
Übersetzung / Translation: Charlotte Arnhold, Markus Hüppauf
Editing: Charlotte Arnhold, Rasvan Kim, Stefan Mildenberger
Mastering: Gavin Weiss

Referenzen:
Matrix : "Matrix: Making Space: Women and the man-made environment".
Bernard Tschumi: Park de la Villette, Follies, Architekt.
Ishita Alam Abonee, Architektin.
«Un chant d´amour », Jean Genet, Film.
Jose Esteban Munoz: "Cruising Utopia: the Then and There of Queer Futurity".
Gloria Anzaldua: "Borderlands / La Frontera. The New Mestiza".
Paul B. Preciado: "Ein Apartment auf dem Uranus".

Thomas Jung und Stefan Müller-Doohm: "Wovon das Schlafzimmer ein Zeichen ist".
Paul B. Preciado: "Pornotopia".
Laboria Cuboniks: "Xenofeministisches Manifest".
Jack Halberstam: "Unbuilding Gender".
Hamburg Map: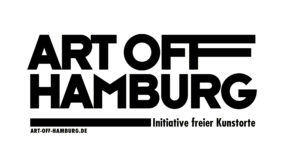 Publications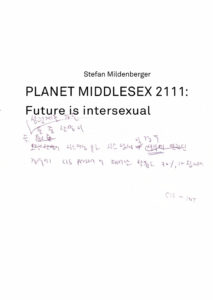 PLANET MIDDLESEX 2111: Future is intersexual
Publication belonging to the multimedia installation
Artist book
German / Arabic / Swedish / Russian / Portuguese / English / Spanish / Italian / Korean / Swiss German / Mandarin / French, 56 pages, 21,0 x 29,7 cm, Softcover, print 24, 2019
Publication belonging to the workshop
Artist book
German / English, 12 pages, 21,0 x 29,7 cm, Softcover,
print 24, 2019
Publication belonging to the ongoing video series
Artist book
German / English, 16 pages, 21,0 x 29,7 cm, Softcover,
print 24, 2017
Scholarship holders of the Künstlerhaus Schloss Balmoral and the state of Rhineland-Palatinate
Exhibition catalog
German / English, 107 pages, 23,8 x 16,8 cm, Softcover
Salon Verlag, Köln, 2015
ISBN: 978-3-89770-470-1
Exhibition catalog
German / English, 128 pages, 22 x 16,6 cm, Softcover
Elena Winkel, Hamburg, 2015
HFBK in the Bundeskunsthalle, Bonn
Exhibition catalog
German / English, 106 pages, 24 x 17 cm, Softcover
Kunst- und Ausstellungshalle der Bundesrepublik Deutschland, 2014
ISBN 978-3-00-044874-4
Exhibition catalog
German / English, 75 pages, 22,8 x 18,6, Leporello Hardcover
Textem Verlag, 2013
ISBN 978-3-86485-030-1
Stefan Mildenberger
Artist book
German, 80 pages, 24 x 17, Numbered and signed
Edition of 100 pieces,  Softcover
Materialverlag-HFBK, Hamburg
Material 324
SCANTRIFIED MUSIC VIDEO
Stefan Mildenberger
artist book
german, 80 pages, 24 x 17 cm numbered and signed, edition of 25 pieces,  softcover
Materialverlag-HFBK, Hamburg
Material 325

SPEECHES, YOU, TUBE AND I KNOW
Stefan Mildenberger
exhibition catalog
german, 28 pages, 20,8 x 14,5 cm, softcover
Kunstwoche Jesteburg e.V., 2013
exhibition catalog
german, 128 pages, 24,5 x 14,4 cm, hardcover
Elena Winkel, Hamburg, 2012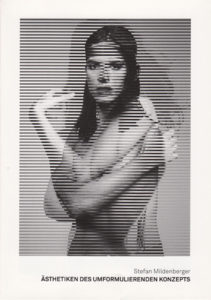 ÄSTHETIKEN DES UMFORMULIERENDEN KONZEPTS,
Stefan Mildenberger
exhibition catalog
german, 20 pages, 20,8 x 14,5 cm, softcover
Isa Maschewski, Hamburg, 2012
magazine
german / english, 112 pages, 28 x 21,2 cm, softcover
Isa Maschewski, Benjamin Fellmann, Frank Steinhofer Hamburg, 2012
ISBN-10: 3981525809
magazine
german, 98 pages, 29,7 x 21 cm, softcover
Mesccugge Verlag, 2012
ISBN 0949-7803
Stefan Mildenberger
artist book
german, leporello, 650 x 21 cm, numbered and signed, edition of 20 pieces, softcover
Materialverlag-HFBK, Hamburg
Material 290